Jilin university college of environment and resources unveils the cooperation base for production, teaching and research in our college
Author:Henan institute of hydraulic engineering filter material factory | Release time:2018-06-30 |
loading...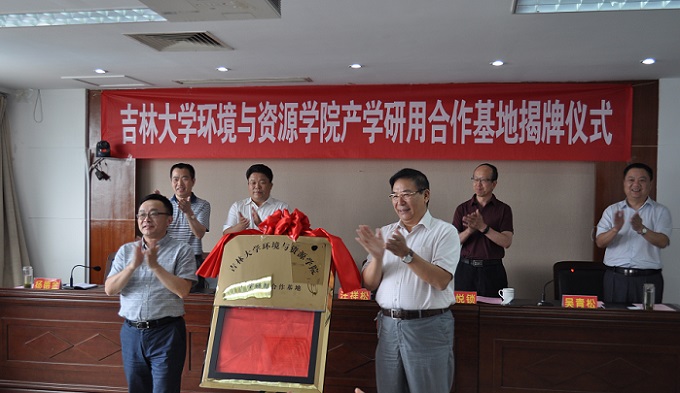 On the morning of June 14, the unveiling ceremony of the cooperation base for production, study and research in the school of environment and resources of Jilin university was solemnly held in our institute. Lu fengnian, member and deputy director of the bureau's party Committee, and Li Guiming, director of the bureau's geological environment department, were invited to attend the ceremony for guidance. Wang xiangsong, deputy secretary of the party Committee of the school of environment and resources of Jilin university, professor yang yuesuo, Yangtze river scholar, and other experts attended the unveiling ceremony. the hospital-level leaders and technical representatives attended the ceremony. Wu qingsong, secretary of the party Committee, presided over the ceremony.
Dean yang dejin gave a welcoming speech at the beginning and said that he would complement the school of environment and resources of Jilin university with complementary advantages and work together to build an efficient geological research platform for production, study and research.
Secretary Wang xiangsong pointed out that the cooperation between scientific research colleges and professional geological prospecting units is a combination of cooperation and is the embodiment of geological work serving the country. I hope to strengthen in-depth cooperation and realize mutual benefit and win-win results.
Deputy director Lu fengnian made an important speech. he stressed that the environmental hospital should treasure the opportunity of cooperation in production, study and practice Xi Jinping's new era of ecological civilization construction, focus on the actual needs of major projects around the weak links in production and scientific research, rely on the strong scientific research strength of talents of the Chittagong institute of environmental resources, grasp the favorable system and mechanism of the base, select specific topics for production, study and research, target, draw on wisdom, strengthen cooperation, push the construction of the project to a higher level, and show new and greater achievements in serving the beautiful Henan construction.
In warm applause, leaders Lu fengnian and Wang xiangsong jointly unveiled the production, teaching and research base.
After the ceremony, experts and scholars from Jilin university visited our prb repair project and the oil pollution control project for on-site investigation and exchange. ( office Wang zhenxiao )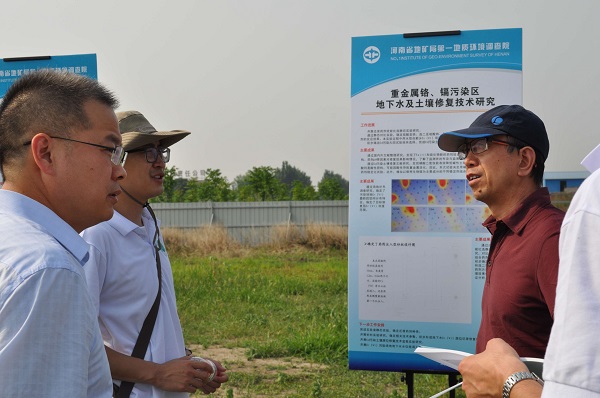 Henan hydrogeological engineering geological survey institute co., ltd. filter material factory, located in Xinxiang city district of Henan province, is a state-owned enterprise of Henan bureau of geology and mineral resources. The company integrates design, research and development, production and sales, and is a professional manufacturer of filter tube. Main products include stainless steel filter tube, trapezoidal wire filter tube, bridge filter tube, oil screen pipe, geothermal well filter tube, etc. The " qingquan" bridge-type filter tube produced won the gold medal of the 8th invention exhibition in Henan province in 1995. the enterprises have successively won the honorary titles of " 51 labor award" of Henan geological labor union, " pioneer worker" of Henan geological system, " excellent diversified enterprises" and " collective economic and technological innovation" of Henan bureau of geology and mineral resources.
Since our factory was put into operation in 1994, after more than 20 years of development and the use of advanced automatic production equipment, we have developed a variety of series of filter tube products, forming a production scale with an annual output of over 30,000 meters. besides producing various specifications of national standard filter tube, we can also customize filter tube's production according to customer requirements. Our factory has a sound management system and a sound quality assurance system, and strictly implements iso quality system standards. the filter tube produced is reasonable in design, beautiful in appearance, and reliable in quality. it is suitable for the construction of various trades and industries including hydrogeology, engineering geology, metallurgical geology, coalfield geology, chemical geology, geothermal air conditioning, farmland water improvement, urban water supply, etc. its products are exported to many countries in Asia and Africa.
Welcome friends from all walks of life to come and guide us to discuss the order.